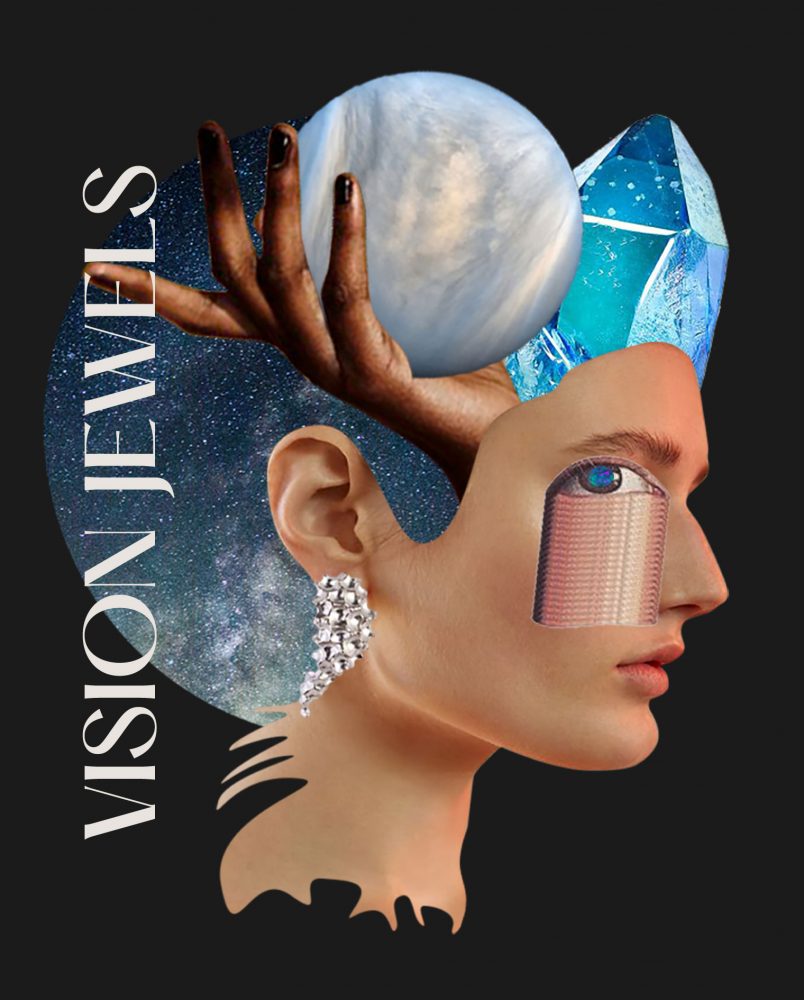 What do you dream of creating now, and in your future? Imagine a jewel that energises you whenever you wear it. A treasured touchstone you draw on as a reminder of your own sure value and intentions.
Discover the essential qualities and gifts of your Element Archetype, & learn about the power gems that will support your vision. 
How will you express your dreams and intentions?

Your Vision Jewel can be:
A TANGIBLE REMINDER
that encourages you to follow your visionary intentions
A SYMBOL OF DEVOTION
a commitment, or a promise – to yourself or another
A PATHFINDER JEWEL
that dissolves self-doubt and shows you that you already have the gifts you need to be exceptional.
Choose your Vision Jewel now
Or have your own personal magic distilled into a piece of jewellery exclusively designed for you.
Your personal (r)evolution starts here: redefine your vision and your value, embody your gifts, celebrate what makes you - or someone you love - extraordinary.
Perhaps the ring you're seeking is a sacred jewel, to honour love, or symbolise an exclusive devotion and promise.
It could be a betrothal ring, a symbol of commitment, and of what you and your beloved intend to grow together.
It may be a celebration of self-love and the joy of being you. Perhaps it's a piece that commemorates a momentous occasion. Or we take treasures, inherited or collected, and transform them into something that brings you delight to wear.
Whatever your reason, whether statement jewel, or a beautifully refined personal symbol that expresses something quietly, just for you, a custom designed Vision Jewel reveals what is unique and valuable about you, or someone you love.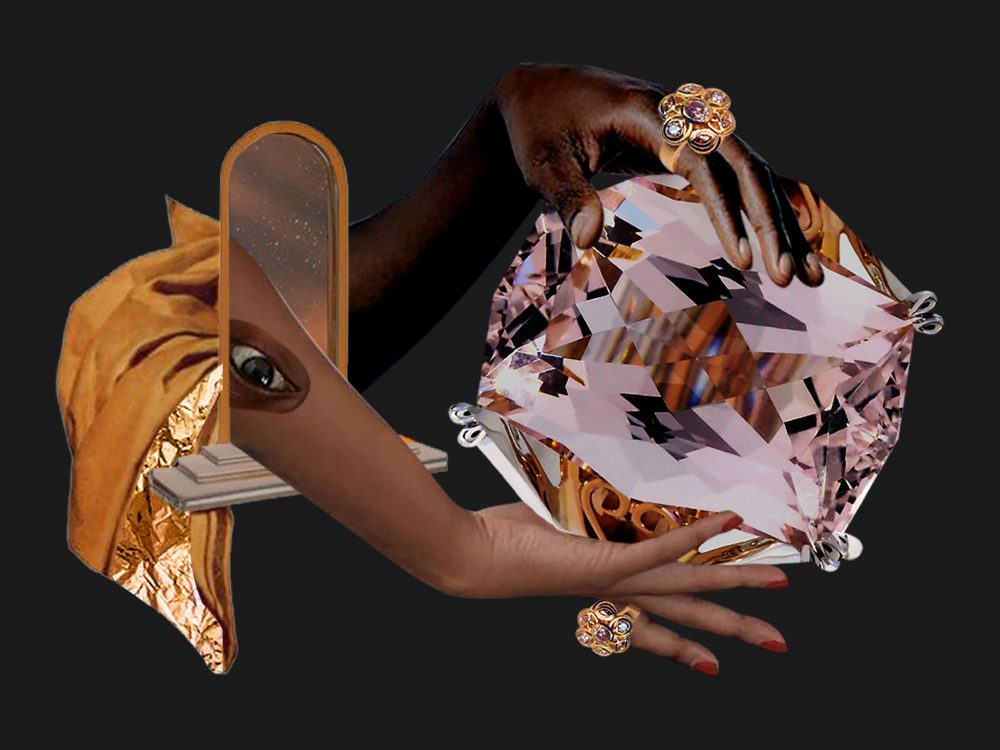 Kirana is an artist whose extraordinary colour field paintings affect the energy of the space and the people in it. She requested a pair of earrings that would act as a device for 'developing pathways'.
Inspired by the delicacy of dragonfly wings, where their transparency belies their very functional structure, these earrings are designed for tuning in on a different level – for hearing what's really being asked. Blue-green beryl is soothing and calming, encouraging clarity of communication. The beryl is matched with blue zircon which stimulates focus to make what seems unreal into something real.
I'm completely in love with my earrings and they feel very special to wear. It's a conscious stepping-up moment to put them on and start my work."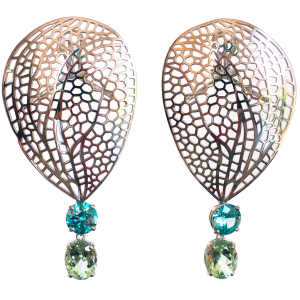 In the midst of a challenging divorce, Jen wanted to take the value still inherent in her wedding rings and transform it into a new, more powerful symbol of her changing identity.
We also added her birth stone aquamarine. Jen wanted to wear this ring all the time, so while it's large, it's also snug and low-set on her finger. The Jenerator ring then becomes a constant reminder for all her future potential.
"Sheridan is creative, clever and supportive. Going through so much personal transition, forming my new ring helped me form who I was transitioning into as well. A fabulous process."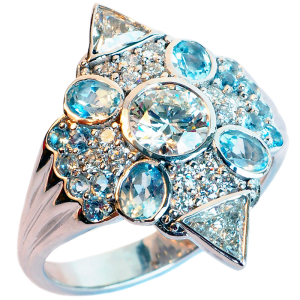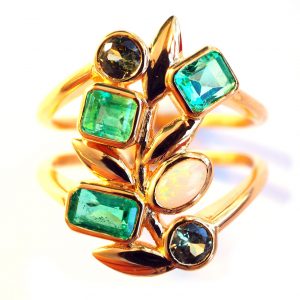 Breathe new life into your old jewellery.
Is there something you never wear, an inherited piece or something from another lifetime that no longer represents the person you're becoming? Perhaps you have jewellery with stones you still love, that needs a redesign.
We can transform your old jewellery into a piece that holds the energy of who you are – and who you're becoming.
I call this process "Rejewellerating" – we draw the essence from jewellery that still has value and reinterpret its elements, creating a potent symbol that you'll treasure.